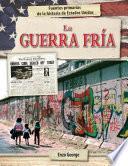 La Guerra Fría (The Cold War)
Autor: Enzo George ,
Número de Páginas: 48
Following World War II, Europe was divided in half: the democratic West, protected largely by the United State, and the communist East, controlled by the Soviet Union. In the decades that followed, the U.S. and Russia would compete for superiority in a conflict that came to be known as the Cold War. Explore the nuclear arms race, the conflicts in Korea and Vietnam, and the space race through first-hand accounts.